Dear Parents of
Elementary School Students:
The First Sunday after Easter is called "Divine Mercy Sunday," and is all about the mercy of God expressed through Jesus!  I had a lot of fun putting together resources for your family to learn about this lovely day of mercy!  Here is a wonderful 2 ½ minute video for parents about one way to look at Divine Mercy:
With your children, start by looking at the picture of Jesus at the top of this email – have your child describe all the elements of the picture to you. Then, watch the video.  Afterward, use the quick facts below to discuss what this Sunday is about.  Then do any of the crafts listed below that your child would enjoy.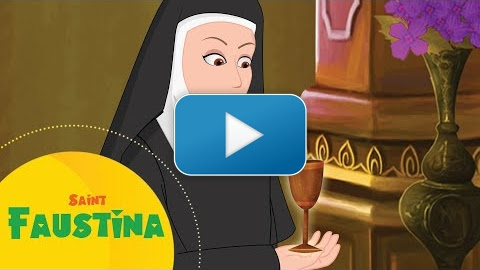 Quick Facts About Divine Mercy Sunday:
It falls on the 1st Sunday after Easter

"Mercy" is God's love for us even when we sin.

St. Faustina was a young religious sister in Poland in the early twentieth century who was known for her holiness and her visions of Jesus.

One day, St. Faustina had a vision of Jesus dressed in white with red and blue rays coming from his chest.

The blue ray symbolizes water, and the red one symbolizes blood

Jesus talked with St. Faustina about how much he loves his people, and how he offers them forgiveness for their sins.

Jesus asked her to have this picture painted so that everyone would know of God's mercy.  He asked her to write "Jesus, I Trust in You!" on the bottom of the image.

St. Faustina kept a diary where she wrote a lot about Divine Mercy, and more about this image

St. Pope John Paul II is the pope that canonized St. Faustina (made her a saint) and instituted Divine Mercy Sunday.

It's traditional to pray a Divine Mercy novena, which starts on Good Friday and ends on Divine Mercy Sunday.

Many families like to attend confession the week of Divine Mercy Sunday.
Here is a link for older readers and parents to an explanation of what Divine Mercy Sunday is all about
If parents want to learn more about this incredible story, there is a good series in the online platform "Formed" called "Divine Mercy in the Second Greatest Story Ever Told."  Episode 4 is called, "Faustina and the Spread of Divine Mercy."  It is ½ hour long.
Divine Mercy Coloring Page:
Here is a link to a good Divine Mercy Coloring Page:
Materials Needed:
Have your child color the Divine Mercy Jesus however he or she wishes, but encourage them to color the rays red and blue to stand for blood and water. Then cut the image out according to the directions on the printable. (Help your child to cut if needed). You then use a glue stick to attach your image around a toilet paper tube.
If you want, after the rays are colored red and blue, use a glue stick to cover them in red and blue glitter.
Divine Mercy Tie-Dye T-Shirt:
You can also make a divine mercy tie-dye t-shirt with your kids!  Instructions here:
Next Sunday (April 18) is the final in-person class of the year
 for Parents and Elementary Children
at 9:15 am – 10:45 am
in the Little Flower Formation Center.
Enter on the east end by Sr. Joan's Room.  We will be having some family time, food, and crafts together!  Join us!
Mass this weekend is at 4 pm on Saturday and 8 and 11 am on Sunday.  Join us in person or watch the 8 am Mass on the links below:
Blessings on your family this weekend on on the week ahead!  I look forward to seeing everyone on April 18!
Laura Escalera
Pastoral Associate for Religious Formation
Christ the King Parish